Spellbound Spa PT1 : Spring Beauty Potions with Alise Marie and Patti Negri
Join us Saturday March 18th @ 11:00am PST / 1:00pm EST for Spellbound Spa PT1 : Spring Beauty Potions with Alise Marie and Patti Negri
Though the changing seasons present challenges to our beauty and wellbeing, we are ready! Join Alise and Patti to conjure and concoct potions for this season of renewal that bring your entire body back to life - just in time for Ostara! Repair your skin and hair from winter damage, boost your immune system, and get glowing with our sorceress secrets and beauty magic that will heighten your potency from the inside out.

Materials needed:
Oat flour
Garbanzo flour
French green clay
One very ripe banana
2 nectarines (fresh is best, but we can use frozen or dried)
White seedless grapes
Ground cinnamon
Cashew milk
Grapeseed oil
Lavender essential oil
Rosemary essential oil
Ylang Ylang essential oil
spring or purified water
Stevia, monk fruit, or coconut nectar (optional for sweetening)
Will need:
2 mixing bowls
Whisk or fork
Pestle and mortar or potato masher
Mixing spoon
High speed blender (bullet style is best for creating a smooth texture)
Beautiful drinking glass and decorative bowls to transfer potions into
1.5 Hours

Course Duration

Recording

Recordings sent if you are unable or do not wish to attend in person.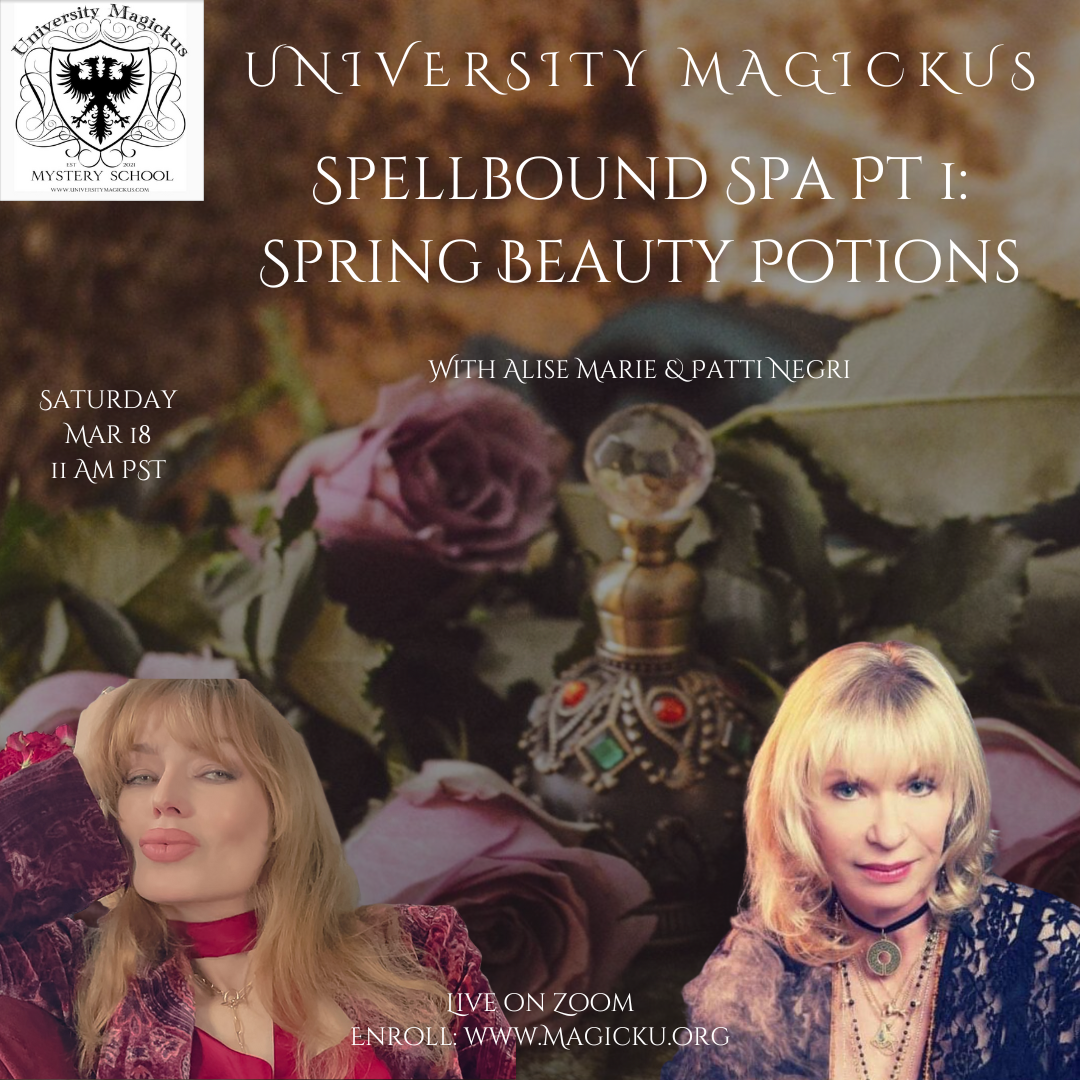 Patti Negri
Patti Negri, Psychic-Medium and "Good Witch" is best known for her recurring role on the Travel Channel & Discovery Plus's #1 show GHOST ADVENTURES and the #1 paranormal show on YouTube OVERNIGHT with Elton Castee and Corey Scherrer. She is the international bestselling author of OLD WORLD MAGICK FOR THE MODERN WORLD: TIPS, TRICKS, & TECHNIQUES TO BALANCE, EMPOWER, & CREATE A LIFE YOU LOVE.
Patti's body of work includes appearances on dozens of shows from Portals To Hell, MASTER CHEF, WipeOut and America's Got Talent to Influencers, YouTubers and crossover talents like Lilly Singh, LaurDIY, Good Mythical Morning and AwesomenessTV.
She has graced numerous magazine covers, contributed to over 20 books and conducted seances on radio, film, and TV working with such legends as Emma Stone, Jon Voight, Josh Duhamel, Chevy Chase and Gregory Hines.
Patti has a popular weekly podcast called The Witching Hour and has just launched her second weekly podcast, The Witch's Movie Coven. Patti is partner and Vice President of Paraflixx.com Streaming Service, and partner and educator at UniversityMagickus.com an online Spirituality School.