Spellbound Spa PT2 : Spring Beauty Potions with Alise Marie
Join us Sunday April 23rd @ 11:30am PST / 2:30pm EST for Spellbound Spa PT2 : Spring Beauty Potions with Alise Marie
Join Alise Marie, The Beauty Witch, for a celebration of vernal allure as she presents the second half of this two-part series. Building upon the sorcery of Part 1, we will be conjuring potions to beautify from the inside out, with plant-powered potency to enhance magnetism, build strength and potency, hydrate, and glow like the stars!
Ingredients:
grapeseed oil
sweet almond oil
avocado oil
pure vitamin E
pure vegetable glycerin 
1 vanilla bean
clove essential oil unsweetened cashew milk
raw, unsweetened cacao powder 
2 tablespoons black chia seeds
3⁄4 cup dates, pitted and chopped
1 tablespoon raw hemp seeds
1 teaspoon ashwagandha powder
1⁄2 teaspoon ground cinnamon
1⁄4 teaspoon ground cardamom
You will need:
2 mixing bowls
Whisk or fork
Mixing spoon
High speed blender (bullet style is best for creating a smooth texture)
Beautiful drinking glass and decorative bowls to transfer potions into
1.5 Hours

Course Duration

Recording

Recordings sent if you are unable or do not wish to attend in person.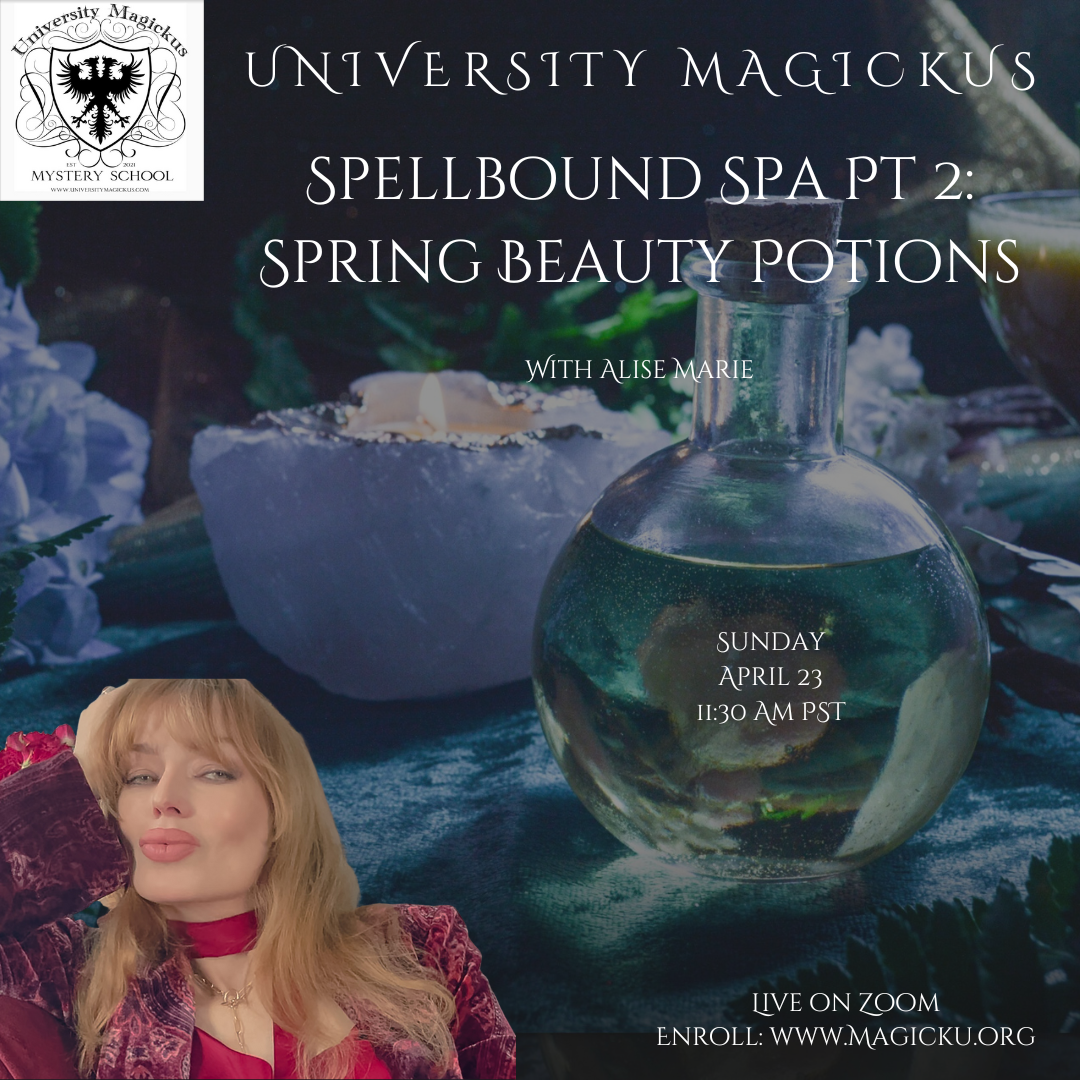 Patti Negri
Patti Negri, Psychic-Medium and "Good Witch" is best known for her recurring role on the Travel Channel & Discovery Plus's #1 show GHOST ADVENTURES and the #1 paranormal show on YouTube OVERNIGHT with Elton Castee and Corey Scherrer. She is the international bestselling author of OLD WORLD MAGICK FOR THE MODERN WORLD: TIPS, TRICKS, & TECHNIQUES TO BALANCE, EMPOWER, & CREATE A LIFE YOU LOVE.
Patti's body of work includes appearances on dozens of shows from Portals To Hell, MASTER CHEF, WipeOut and America's Got Talent to Influencers, YouTubers and crossover talents like Lilly Singh, LaurDIY, Good Mythical Morning and AwesomenessTV.
She has graced numerous magazine covers, contributed to over 20 books and conducted seances on radio, film, and TV working with such legends as Emma Stone, Jon Voight, Josh Duhamel, Chevy Chase and Gregory Hines.
Patti has a popular weekly podcast called The Witching Hour and has just launched her second weekly podcast, The Witch's Movie Coven. Patti is partner and Vice President of Paraflixx.com Streaming Service, and partner and educator at UniversityMagickus.com an online Spirituality School.